In today's competitive times, the demand for goods frequently fluctuates due to unpredictable consumer behavior, supply chain bottlenecks, or general economic conditions. Warehousing is the ultimate solution for this common problem. However, another dilemma arises when we consider what type of warehousing to go with: public or private. Today's post aims to address this issue by analyzing each option in detail and helping you determine when to opt for private or public warehousing.
What is a Public Warehouse?
A public warehouse is a third-party company that provides its clients with inventory space for distribution and warehousing. They are also commonly known as third-party logistics (3PL) warehouses due to the nature of their operations. These public warehouses store, manage, and distribute inventory for multiple small and large businesses. Their expertise also allows them to operate as their client's outsourced logistics department.
In addition to being a storage facility, public warehouses also provide services like inventory management, shipping services, and inventory reports based on the continuous collection of data. Inventory management at public warehouses is streamlined using sophisticated software to ensure hundred percent accuracy and efficiency. These software applications help collect data on ongoing inventory processes on a continuous basis, a practice that allows the warehouse management to create a holistic inventory report based on precise data calculations.
Numerous public warehouses provide a variety of shipping methods and procedures such as cross-docking, pick pack, and contract packaging services. 3PL enables businesses to tailor their storage experience to their unique requirements.
Four factors determine the cost of using a public warehouse, including handling, storage, operations, and general administrative expense. The cost associated with handling revolves around moving the inventory inside and outside the warehouse. A significant price component is based on the labor involved in handling the stock, as the entire operations are quite labor-intensive.
Storage costs, on the other hand, apply according to the area occupied by the inventory. Operation costs are a result of maintaining the client's merchandise. The cost includes the services provided to the client, such as inventory management, etc. General administrative expenses are the cost of operating the public warehouse. It includes electricity bills and wages of employees involved in running the warehouse.
There are three types of public warehouses: cold-storage warehouses, general merchandise warehouses, and special commodity warehouses. 
Cold-storage warehouses store edible items such as vegetables, fruits, beverages, and mdications. These commodities are stored in cold-storage warehouses to avoid damage from heat, air, humidity, and pollution.
A general merchandise warehouse, in contrast, stores perishable products such as raw materials, semi-finished goods, and finished goods. Producers, distributors, and retailers store their products in these warehouses for a fee. General merchandise warehouses do not require temperature or humidity controls as they only seek to protect the inventory from the damaging effects of weather.
Special commodity warehouses store agricultural products and other natural resources. The warehouse was explicitly built to cater to different raw commodities such as jute, wool, tobacco, cotton, coal, and petroleum.
What is a Private Warehouse?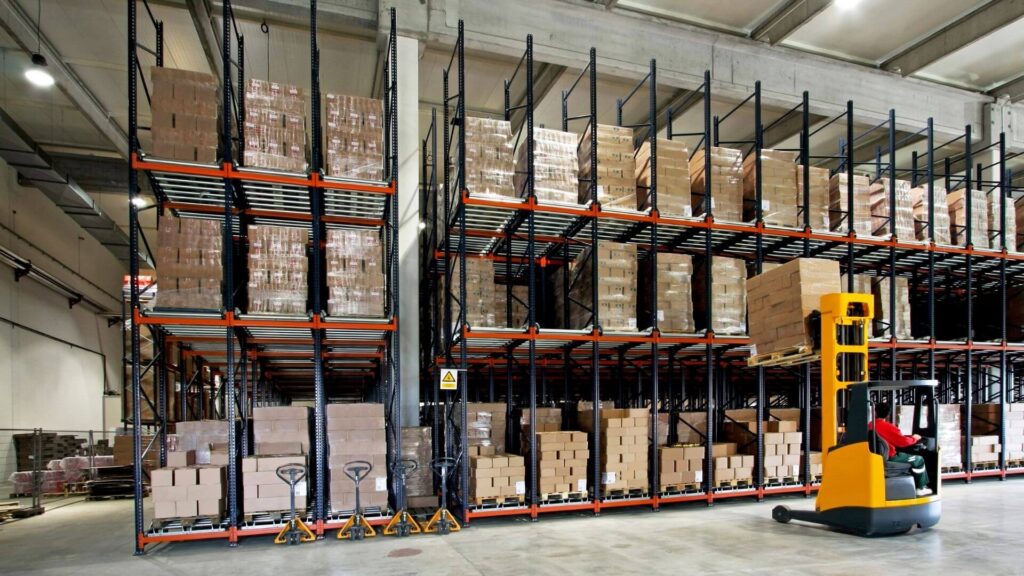 A private warehouse is owned and operated by distributors, manufacturers, and wholesalers. It is also commonly referred to as proprietary warehousing. Private warehouses frequently require a considerable upfront investment in construction, facility management, and maintenance.
A private warehouse is more suitable for big corporations that aim to control their ever-growing warehousing and distribution costs. it allows these businesses to reach economies of scale, increasing profits in return. Small and medium enterprises cannot afford the cost of building and managing a private warehouse, therefore, making it highly unsuitable for them to invest in one.
What are the Differences?
Before deciding to opt for either private or public warehousing, one should know the difference between the two to make a better decision. Public and private warehousing appear to be similar in features at the surface level. However, when the characteristics are analyzed in-depth, the differences become more visible.
Warehouse Management System:
A warehouse management system (WMS) is used for inventory management at a public warehouse. The system can be customized to keep track of multiple clients simultaneously. In a private warehouse, inventory management is undertaken with the help of an inventory management system that enables companies to track their product inventories. Due to its simple interface, the inventory management system is unsuitable for a public warehouse in terms of managing its large-scale and complex workflows.
Capital Expenditure:
When a business seeks to operate a private warehouse, capital is necessary to acquire, repair, and maintain inventories. Safety equipment, storage spaces, forklifts, and other machinery must be purchased for a warehouse to function optimally. Moreover, the company will have to hire and maintain warehouse personnel to stock, organize, load, unload, and ship inventories.
In comparison, all the facilities and services necessary for a warehouse to function at its maximum are readily available in a public warehouse. As a result, no capital expenditure is required if a company decides to hire their services, ensuring that funds are not diverted from other essential departments present in an organization.
Relocation:
Owning and operating a private warehouse restricts your company's capacity to relocate. Selling a private warehouse will require considerable time and effort. However, public warehousing gives businesses a great deal of flexibility, as standard leasing arrangements need either a 30- or 60- day notice period before shifting. Expansion into a new area or geographic location can easily be undertaken through public warehousing facilities.
Property Taxes:
Property taxes are a significant expense for businesses that operate large warehouses. Failure to pay taxes on time results in penalties and fines, further increasing prices. Delays can further exacerbate the problem, resulting in substantial losses during times of acute financial distress. On the other hand, public warehouses for businesses are exempt from paying VAT.
Warehouse Management:
In a private warehouse, the organization that owns the warehouse is responsible for inventory management, monitoring storage facilities, packing, and shipping the inventory. Employees must be recruited, trained, and supervised to maintain quality standards. On the other hand, there are numerous public warehouses that provide specific services as part of a leasing agreement.
What are the Benefits of Public and Private Warehousing?
The Advantages of Public Warehousing
Public warehousing is more cost-effective, convenient, and adaptable than private warehousing. There are several reasons why public warehouses are considered a better option. For starters, public warehousing does not necessitate any sizeable financial outlay for facility lease and taxes, staff onboarding, or safety training. This option results in a cheap initial and ongoing cost.
Public warehouses, in addition, do not demand long-term commitments, enabling firms to easily switch to a new warehouse if they dislike the one they are currently using. It also implies that clients have access to a wide range of extra options and choices due to the high level of competition present in the industry and competitors playing against each other for a bigger share of the market.
Specialty storage, for instance, is required for temperature-sensitive commodities, dangerous chemicals, and perishable items. However, not every public warehouse is equipped to accommodate them. Still, many are. Customers who rely on rail or intermodal transportation need a public warehouse adjacent to a rail line. Many public warehouses are located close to rail lines, while others provide access to indoor rail lines running directly from the warehouse. Public warehouses also offer additional services to assist clients in packing, assembling, and often shipping their stored items.
With accessible locations and a diverse clientele, public warehouses frequently pass on the cost advantages of high-volume freight to their customers. As a result, clients of public storage often benefit from transportation cost reductions. Public warehousing facilities come in various sizes, making them ideal for small firms or those wishing to expand. As a result, businesses whose revenue fluctuates annually or seasonally have an excellent level of flexibility with this option.
The Advantages of Private Warehousing
Private warehouses generally offer many benefits to their owners, which public warehouses simply cannot due to their size and scope. One of the advantages is the amount of control a company can have over its warehousing operations. It allows the company to store inventory in a manner that is specially customized to its business requirements, monitor the movement of stock, and have trained staff to take care of the stored items appropriately.
The second advantage is the power the company has on the cost of warehousing and distribution. Private warehousing allows companies to control the expenditures associated with storing inventory and periodic demand for goods and materials.
After understanding the difference between private and public warehousing and evaluating the benefits of each, one can now make a proper decision as to what to opt for. Whether to go for public or private warehousing highly depends on the company's size, nature of business, demand cycle, and the funds and resources it has at its disposal.
Small to medium enterprises can greatly benefit from public warehousing. it allows them to scale the business quickly while keeping costs down. Moreover, the benefits one can avail of through public warehousing are countless as it takes the pressure from the firm in terms of distribution and warehousing. Private warehousing has its own set of benefits, but it is highly unsuitable for a small or medium-sized business to build and maintain an entire warehouse from scratch.
Large corporations that highly rely on distributing and storing their inventories should choose private warehousing. E-commerce businesses and large retail stores, in contrast, can benefit from private warehousing, which allows the organization to control the warehouse's operations and distribution costs. Private warehousing will eventually enable such companies to increase profit and efficiency through economies of scale.